Voluntary Ecological Year - Paleontology
Tired of theory? You want to rediscover yourself? You've come to the right place!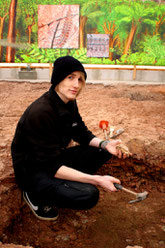 Excavation, preparation and protection work on fossils
Public Relations: maintenance of the website, as well as Facebook, Youtube, etc.
Keeping an excavation diary (in the form of text and photography)
Graphical processing (eg, for flyers and posters)
Logging, backup and data visualization 
 Your help and ideas are urgently needed! We need you!
Apply now by E-Mail:
fenster@naturkunde-chemnitz.de